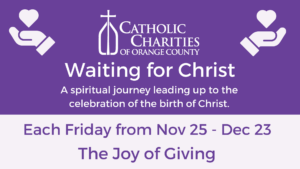 Waiting for Christ: The Joy of Giving
HOPE | FAITH | JOY | PEACE
A 5-WEEK SPIRITUAL JOURNEY LEADING UP TO THE CELEBRATION OF CHRIST.
Featuring the heartfelt stories of donors and why they find joy in giving.
DONATE
We kindly ask you to consider supporting this campaign.
Text wwchrist to 41444 or click the button below to donate.
You are also welcome to donate by check to our new address:
12141 S Lewis St, 11th Floor, Garden Grove, CA 92840.
BECOME A SPONSOR
If you wish to become a sponsor, please contact Mariajose Garorti – mgarorti@ccoc.org | Call/Text: (714) 347-9676