Catholic Charities Auxiliary's mission is to assist Catholic Charities of Orange County by fundraising, volunteer work, and public awareness. All women of the Diocese are invited to become part of this exciting and rewarding effort. The Auxiliary is proud to have supported Catholic Charities in its many endeavors for more than 40 years.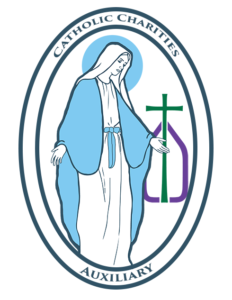 2019: Monica Kovach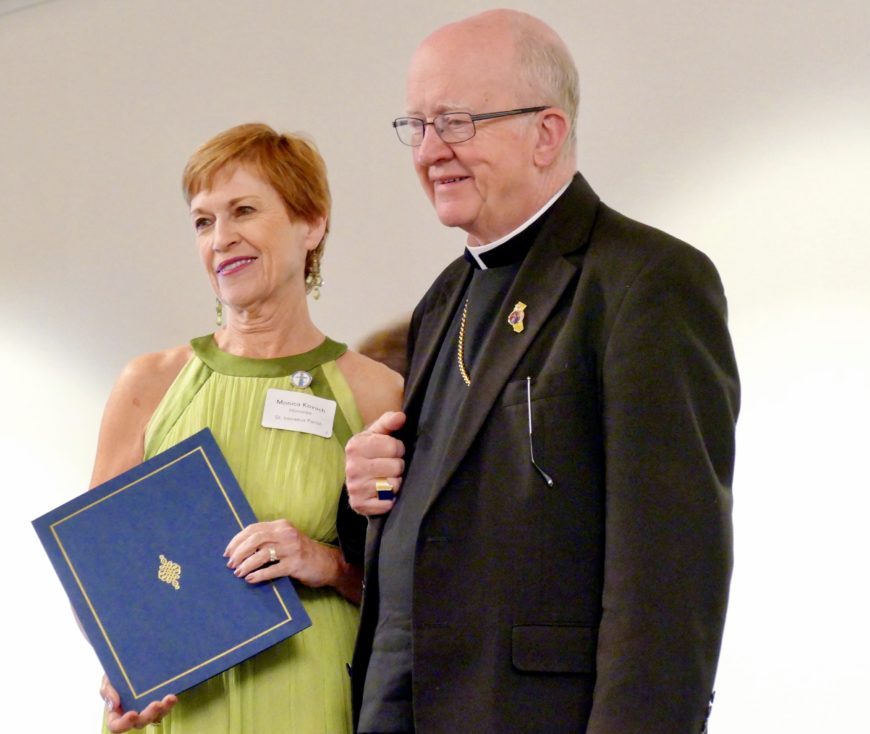 With over 400 guests in attendance at the Annual Catholic Charities Auxiliary Women of the Year Benefit Luncheon celebrated on May 20th, at the Delta Hotel by Marriott, Mrs. Monica Kovach was named as the 2019 Catholic Woman of the Year.  Most Rev. Bishop Kevin Vann recognized the 21 nominees representing 18 parishes and two Diocesan groups.
Mrs. Kovach has served in numerous leadership roles spanning from Sunday School and First Communion Instructor, Pastoral Care/Health Ministry Secretary, Eucharistic Minister, Altar Linen Minister, Prayer Shawl Minister and Parish School crocheting instructor.  In her community she has served as Volunteer Service Council President, Capital Campaign Committee member, Hospitality Chair, Curatorial Faux Food craftsman, Floral Team lead designer and even started a Boy Scouts of America troop!  She is also a member of the Orange County Human Trafficking Task Force.  She is most proud of her involvement as Chair for the Parish Health Ministry Board and Core group, where she oversees 13 ministries; as founding member and Co-chair of Bridge of Light, an anti- human trafficking ministry as well as being the Founder and Chair of the Parish Labyrinth Ministry.  Her unwavering servant leadership qualities have exemplified her time of service for more than 30 years.  Monica is married and has two children.  Congratulations to Monica Kovach, who was nominated by St. Irenaeus Parish in Cypress!
2018: Christy Frank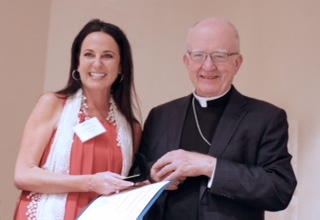 Catholic Charities of Orange County and the Catholic Charities Auxiliary congratulate Mrs. Christy Frank, who was elected Catholic Woman of the Year 2018!  She is a parishioner at Our Lady Queen of Angels in Newport Beach.  Christy has a deep passion to serve within her community, and her leadership skills have taken her to successfully fulfill various leadership roles for several organizations. She is currently the Parent Board President at Mater Dei High School, and also the Founder and Director of "Magical Builders," a non-profit driven by the mission of "Building Dreams Through the Eyes of Children." Magical Builders has helped renovate and build dozens of Children's Charity Facilities.  Through "Magical Builders" she also directs and coordinates the efforts for the "Jamma Jingles" Pajama Drive, for unprivileged children.  Mrs. Frank is also the recipient of a Lifetime Membership Award.  She is married and has three children who serve together as a family. Congratulations Christy Frank, who was nominated by Mater Dei!
2017: Beverly Krassner-Bulas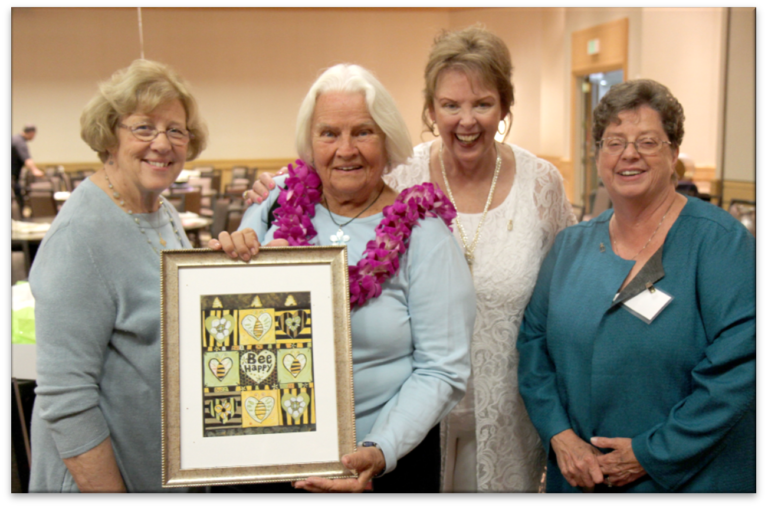 Congratulations to a lady who has LIVED her faith for years. She lectors, delivers the Body of Christ to the homebound, she is on the Respect Life committee, attends weekly Bible studies, is a Children's Ministry volunteer and brings Communion to those in Juvenile Hall. Furthermore, she does food delivery through the St. Elizabeth Ann Seton Saint Vincent de Paul Society and assists the Knights of Columbus. In her community, she is involved with Mercy House, the Garden Club and so much more. She has been on the board of several organizations showing her leadership and compassion. Challenging, laborious work doesn't seem to stop her one bit. She is a volunteer, a fund raiser, a beekeeper and we could go on and on and so has she, for about 50 YEARS! Her family and friends know that this woman of God who is a single mom, registered nurse and assisted Saint Mother Teresa of Calcutta with the lepers, the destitute and the dying is the 2017 Catholic Woman of the Year!
2016: Patricia Doyle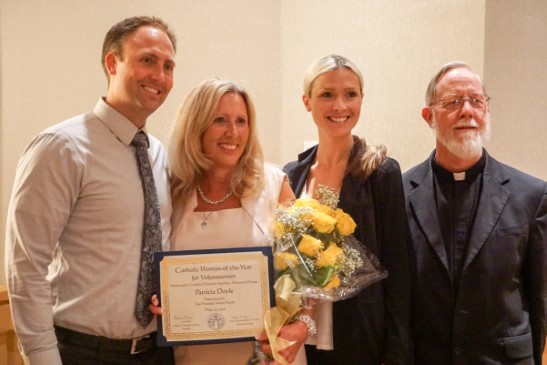 For over 18 years Patricia Doyle has volunteered in the RCIA program at her Parish, San Francisco Solano; and for the past 8 years has been director of the program. Her focus during the past 5 years has been assisting three cancer patients with care, meals and coordinating their special needs. She is also the SFS Parish Representative for Cursillo and has given talks during five Cursillo Women's Weekends. In addition to be a Lector, Eucharistic Minister and Coordinator for Communion Services to adults in Assisted Living, Patricia also is part of a Moms in Prayer group and hosts a weekly Cursillo Prayer group. Patricia was a leader in creating the St. Veronica's Guild; a project that allows volunteers to do laundry for homeless families which makes attending school regularly easier for children without a permanent residence. She has worked on several house builds in Mexico and has hosted Foreign Exchange students. Patricia also opens her home to Catholic Singles and has hosted several events for Singles to meet and explore new options for their time and talents. Patricia is a Real Estate Broker, an avid tennis player and has a passion for travel. She has 2 children and is the proud "Gigi" to grandchildren Gracie and Connor.