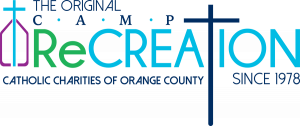 Camp ReCreation, also known as Columbian Disability Services is an accumulation of various day camps and family events that serve  our friends with Special Needs. For more than 40 years, our camps have provided hundreds of campers and thousands of volunteers the opportunity to create friendships and memories to last a lifetime through specially designed programs for those with Special Needs. Our mission is to provide a safe, fun, and spiritual environment where campers can shine, respite for their loving caregivers, and the encouragement of acceptance and volunteerism among Southern California's youth. Camp and its' affiliate programs are provided through Catholic Charities of Orange County at little to no cost to participants through the generous funding from the Knights of Columbus, Catholic Charities of Orange County and community donors. For additional information please visit our website at camprecreationccoc.com. Come join the fun, we promise it will change your life!
Contact
Madie Dibb-Fugate
Program Director
Tel: 714-347-9627
Email: camp@ccoc.org
Follow us on Instagram: camp_recreation
Like us on Facebook: Camp ReCreation CCOC
Follow us on Twitter: Camp ReCreation
Please visit our website for registration information!