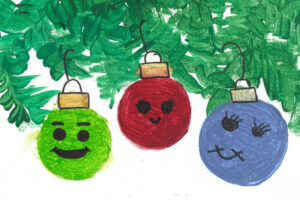 Christmas Blessings & Three Kings Day Toy Distribution Recap
CCOC Spreads Warmth & Cheer to Struggling Families in Orange County
By Catherine Grattan
It is remarkable how the spirit of giving knows no bounds when we come together as a community to help those in most

need. Gifts were not only distributed to families during our Christmas Blessings Program on December 15th and 16th
—
w

e received so many toys that the gift of giving was extended into the New Year for our Three Kings Day distribution on January 6th.
Our Christmas Blessings program focused on the personalized needs and wish lists of less-fortunate families referred by local parishes. Parishes, schools, organizations, and individuals invested time and resources to shop and assemble gift bags so children could experience the joy of opening presents on Christmas picked especially for them. Recipient families were in shock seeing the multitude of gifts that had been bought for their children
— some batches requiring multiple trips to fit into families' cars.
On Three Kings Day, the Cantlay Food Distribution Center was transformed into a toy warehouse packed with an array of items, from bikes to giant animal plushes. Children gleefully selected toys handed to them by volunteer "shoppers." Open to the entire community, the success of the event showed how the spirit of giving is not limited to the Christmas season but is alive and active year-round.
We are so grateful for everyone who volunteered their time and resources to make these events abundantly life-giving for struggling families.
CCOC extends a huge thank you to our benefactors for the Christmas Blessings program
, including St. Thomas More Church (Irvine), Our Lady of Mt. Carmel (Newport Beach), St. Norbert Catholic Church (Orange), San Francisco Solano Parish (RSM), Our Lady of Guadalupe Church (La Habra), St. Edward the Confessor Catholic Church (Dana Point), Holy Family Cathedral (Orange), St. Martin de Porres Catholic Church (Yorba Linda), San Antonio Catholic Church (Anaheim Hills), Catholic Charities Auxiliary, Diocesan Department of Catholic Schools, Diocesan Department of Shared Services, Diocesan Department of Youth & YA Ministry & Hispanic Ministry, St. Jeanne de Lestonnac School (Tustin), St. Juliana Falconieri School (Fullerton), St. Junipero Serra Catholic School (Mission Viejo), Christ Cathedral Academy (Garden Grove), St. Bonaventure School (Huntington Beach), Santa Margarita Catholic High School, Mater Dei High School (Santa Ana), Cristo Rey Orange County High School (Santa Ana), and the following CCOC Board of Trustees members: Pat Imburgia, Ed Benoe, Mary Brunson, Wendy MacNey, Kate MacGregor, Steve Pellegrini, Mark Jablonski, Dcn. Thomas Saenz, Ellen Roy, and Juliana Silva.
We are extremely blessed by the following organizations who collectively donated over 2,000 toys to our Three Kings Event:
Huntington Beach Fire Department, Laguna Beach Fire Department, Mater Dei High School, Spark of Love OC, and St. Thomas More Catholic Church.
"A gift opens the way and ushers the giver into the presence of the great" – Proverbs 18:16
Artwork by Eli, Luis, Ali, Joshua; Yezehnia, Isaac, Danyela, Eliza; The Uriarte Family, Roger Estrella, and Bella H.